Contact Us
Mailing Address:
Division of Humanities
UC Santa Cruz
1156 High Street
Santa Cruz, CA  95064 
Email: humanities@ucsc.edu
Phone: (831) 459-2696
Fax: (831) 459-3176 
Mailstop: Humanities Dean's Office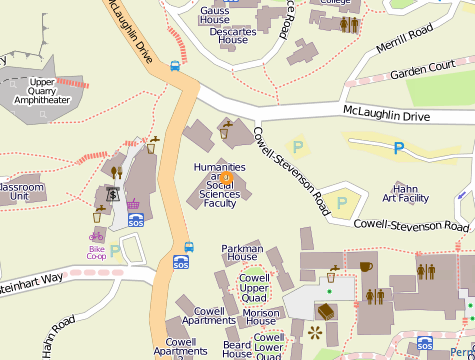 Directions: 
The Humanities Division is in the Humanities 1 building complex, which is located at the entrance to Cowell College, on the corner of Hagar Drive and McLaughlin Drive.   
Once you pass though the main entrance on Bay Street and High Street, Bay Street becomes Coolidge Drive. Continue to travel along Coolidge Drive. You'll pass two stoplights; then, Coolidge Drive will curve to the left and become McLaughlin Drive.  Stay on McLaughlin Drive and turn left into the entrance of Cowell College. (If you see a stop sign, then you've traveled a bit too far.)
The Humanities Building complex will be on your right as you drive into the entrance of Cowell College.
See
Also