About the Humanities Division
What does it mean to be human, to analyze and construct the human experience? These are the fundamental questions that guide and unite the learning, teaching and scholarship conducted in UC Santa Cruz's Humanities Division. The exploration and discussion of this query has culminated in some of humanity's most deeply and widely valued beliefs and teachings about ourselves and the world in which we live.
Our Departments
Feminist Studies, founded in 1974, is today one of the oldest, largest and most well regarded departments in the nation focusing on gender and sexuality studies.
History is a leader in developing a global perspective on "world history" and focuses on underrepresented and transnational areas such as East Asia, the Americas, and women's and environmental history.
History of Consciousness is a field founded at UCSC. For nearly 40 years it has operated at the intersection of established and emergent disciplines and fields, acquainting students with leading intellectual trends in the Humanities, Arts and Social Sciences.
Languages and Applied Linguistics offers instruction in 10 modern languages. The department also emphasizes the study of cultural values pertaining to the communities of speakers where the languages are spoken.
Linguistics consistently ranks among the top ten programs nationally, focusing distinctively on combining theoretical and experimental work with particular attention to minority languages.
Literature has from its beginnings approached both literary and cultural studies from a comparative and transnational perspective.
Philosophy has trained students and fostered research in fundamental historical and contemporary ideas about logic, analytics and perspectives that frame a philosophical view of the human world—including new lines of inquiry in medicine, science, environmentalism and human rights.
The Writing Program courses approach writing as one of the most important ways we have of making discoveries about ourselves and the world around us and of communicating these insights to others. The courses offered through this program teach skills of grammar, organization and strategies of invention, composition, revision, and editing.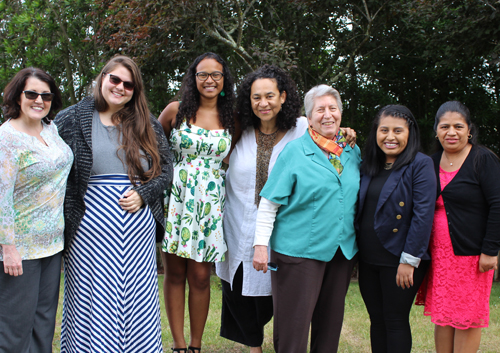 Bettina Aptheker (Distinguished Professor, Feminist Studies) chose to award Dizikes scholarships to three senior graduating students in feminist studies--(Left to right):Lara Loesel and her mother, Abyan Mama-Farah and her mother, and Mayra Contreras with her mother. (Photo by Sarah Caldwell)

Our faculty's accomplishments in a diverse range of disciplines speak to the intellectual breadth and flexibility that distinguishes our division's work.
Two of eight winners of the coveted UC Santa Cruz Excellence in Teaching Award in 2015--for inspired teaching--were Humanities Division faculty:  Grace Peña Delgado (History) and Christine Hong (Literature.)
Distinguished Professor of History and Dean of Humanities Tyler Stovall has been chosen as president-elect of the American Historical Association, the largest professional organization in the U.S. devoted to the study and promotion of history.
Distinguished Professor of History Gail Hershatter has joined Nobel Prize-winning chemist Brian Kobilka, astrophysicist Neil deGrasse Tyson, singer-songwriter Judy Collins, novelist Tom Wolfe, and UC President Janet A. Napolitano as an elected fellow of the American Academy of Arts and Sciences.
Literature Professor Karen Bassi received a $200,000 grant from the National Endowment for the Humanities to undertake a summer institute investigating the history of mortality in ancient Greek culture. Bassi was also the recipient of a University of California President's Fellowship in the Humanities and an Associate Research Fellow at Harvard's Center of Hellenic Studies.
Assistant Professor of History Elaine Sullivan received a Digital Start-Up Grant from the National Endowment for the Humanities to develop a three-dimensional model and virtual tour that will demonstrate how an ancient Egyptian site evolved over more than 3,000 years. The $47,200 grant is one of 17 awards directed to development of new digital tools for study of the humanities that are part of a larger slate of 232 grants just announced by the NEH.
The American Association for the Advancement of Science (AAAS) awarded Linguistics Professor Sandra Chung with the distinction of AAAS fellow for distinguished contributions to teaching and research in linguistics.
Feminist Studies Professor Bettina Aptheker, who along with Literature Professor and National Book Award finalist Karen Tei Yamashita was awarded an esteemed UC Presidential Chair in the emerging field of Feminist Critical Race and Ethnic Studies.
German Studies Lecturer Walter Campbell was named one of "The Best 300 Professors" by the Princeton Review in 2012.
UC Santa Cruz has received a $500,000 gift from John Jordan and Michael Stern, plus matching funds from the UC Regents, to establish a $1 million Jordan-Stern Presidential Chair for Dickens and Nineteenth-Century Studies.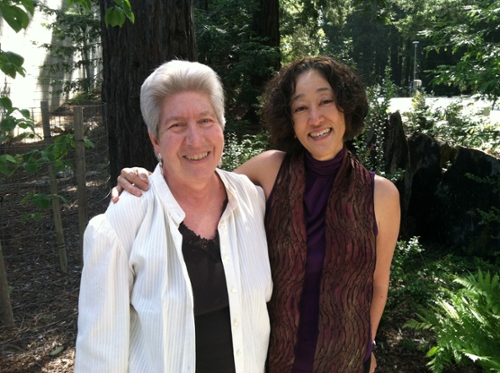 UC Presidential Co-Chairs, Feminist Critical Race & Ethnic Studies (left to right): Bettina Aptheker (Distinguished Professor, Feminist Studies), Karen Tei Yamashita (Professor, Literature)
The Humanities Institute
As the designated UC Santa Cruz Humanities Center, the Humanities Institute (THI) is part of the University of California system-wide Humanities Network and is able to leverage the human and intellectual resources of the finest public university system in the world.
The Humanities Institue is a vibrant hub of humanities research at UC Santa Cruz. Since 1999, THI has given out 69 fellowships to faculty, 146 to graduate students, 150 to undergraduate students, and have seeded 22 research clusters. With the help of the institute, faculty and students have developed individual and collaborative research projects and the university and numerous sites around the world, supported by the Mellon Foundation, the American council of Learned Societies, Fulbright, the National Endowment for the Humanities, the National Endowment for the Arts, and more.
THI is currently exploring a challenge grant from the National Endowment for the Humanities whose Chairman, William "Bro" Adams, holds a PhD from the History of Consciousness department.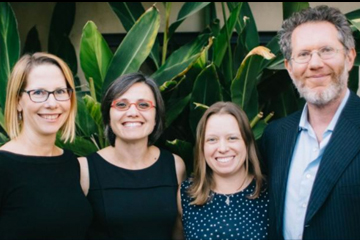 THI staff (left to right): Evin Guy (Program Manager), Irena Polić (Managing Director), Jessica Guild (Event Coordinator), and Nathaniel Deutsch (Director)