Regular Faculty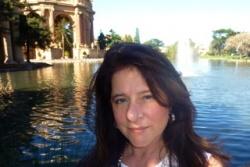 Pronouns she, her, her, hers, herself
Title
Division Humanities Division
Department

Languages and Applied Linguistics

Phone
Email
Fax
Website
Office Location

Cowell College Faculty Wing, 208 Cowell College

Office Hours MWF 3:00 PM-4:00 PM (and by appointment) WINTER 2023
Mail Stop Cowell Academic Services
Mailing Address

1156 High Street
Santa Cruz CA 95064

Faculty Areas of Expertise

Italian Studies, Film, History, Literature, Ethnomusicology

Courses Winter 2022 Italian 2, Winter 2022 Italian 5
Biography, Education and Training
A native of Italy, I graduated from the University of Bari, Italy, with a degree in Foreign Languages and Literature, majoring in English. I taught for several years at UC Davis and then moved to UC Santa Cruz where I have been teaching all levels of Italian for over two decades.
I have an immense dedication for teaching, one of my goals is to provide my students with language skills that they may not encounter in the textbook. This includes using idioms and common catch phrases/words. I also want my students to be passionate in learning the Italian language. When I teach, I am enthusiastic and create a cordial environment to promote Italian discussion. I think it's important to encourage students to talk in Italian, I want them to feel comfortable in the class to express their thoughts and to be ready to try.
In the summer of 2022, I had the opportunity to teach an intensive Italian language program on the Amalfi Coast in Italy to a group of UCSC students. It was an amazing experience for myself and all my students. This program is being offered during Summer of 2024.
Teaching Interests
Technology and foreign language pedagogy. Modern Italian culture, history, literature and cinema. Creative writing. Promotion of Italian language and culture in K-12.