Humanizing Technology
A project supported by the National Endowment for the Humanities

The Humanities Division was recently awarded a National Endowment for the Humanities grant "Humanizing Technology" under their Humanities Initiatives at Hispanic-Serving Institutions program. The goal of the grant is to develop a 5-course certificate program at the intersection of humanistic thought and contemporary issues in technology and engineering. The project is led by principal investigator, Jasmine Alinder, Dean of Humanities, and co-principal investigators, Pranav Anand, Professor of Linguistics, and Laura Martin, Lecturer and Project Manager at The Humanities Institute.  
The goal of the NEH Initiatives for Hispanic Serving Institutions grant "Humanizing Technology" is to construct and launch a new Certificate in the Humanities that will provide humanistic training for engineering undergraduate students at UC Santa Cruz. The certificate will develop students' capacities as deliberative, critical thinkers about social and cultural systems, encourage them to explore the impacts of new technologies; and, more broadly, provide them tools for navigating their values and place in the world. The certificate will require students to complete three of five designated courses as well as complete a capstone experience.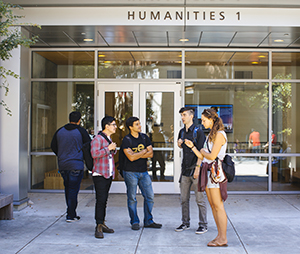 Over summer 2022, an instructional community will assemble to collectively design the five new courses for the Certificate, each tailored to a distinct General Education requirement. These courses will draw from and integrate with themes that connect directly with the impacts of the biotechnological, computational, robotic, electronic, and data scientific technologies engineering students will study and develop in their careers post-graduation. As an overarching goal, the courses will also work to lead students to cultivate a sense of epistemic humility — to decenter the present moment, problematize conventional narratives, and reckon with unintended consequences of their field. Each course will have a set of course leads (drawn from faculty and graduate students) who will work closely together to develop a syllabus and assignments and shepherd the course through the course approval process.
The five proposed courses are as follows:
Ethics and Technology

(Perspectives on Technology Gen Ed; Faculty Designers: Zac Zimmer & Ben Breen; Graduate Student Teaching Fellows: Caitlin-Anne Flaws (Literature) & Mark Howard (Politics)): This course explores ethical, social, and political issues raised by existing and emerging technologies.

Global History of Communication

(Cross-cultural Analysis Gen Ed; Faculty Designers: Pranav Anand & Kirsten Gruesz; Graduate Student Teaching Fellow: Allison Nguyen (Politics)): This course provides a historical framing of the development of communication technologies and practices, considering a variety of cultures and societies across human history.

Humans and Machines, a History

(Textual Analysis Gen Ed; Faculty Designers: Martin Devecka & Matt O'Hara; Graduate Student Teaching Fellows: Dustin Gray (Philosophy) & Marilia Kaisar (Film and Digital Media)): This course explores the tension between humans and machines, between people and objects increasingly resembling them.

Representing the Self and the Other

(Interpreting Arts & Media Gen Ed; Faculty Designers: Kate Jones & Kyle Parry; Graduate Student Teaching Fellow: LuLing Osofsky (HAVC)): Focusing on paintings, prints, photographs, selfies, and avatars, this course considers how the composition and form of an image is shaped by the maker's goals, by the technology, and by its audience.

Race and Technology

(Ethnicity & Race Gen Ed; Faculty Designers: Amanda Smith & Felicity Schaeffer; Graduate Student Teaching Fellows: Mia Tempestt Boykin (Literature) & Debbie Duarte (Literature)): This course examines how the construction of race connects with constructs in science and technology.
During summer 2022, as part of the course design, the instructional community will partner with UCSC's Center for Innovation in Teaching and Learning (CITL), whose Project REAL program/workshops (Redesigning courses for Equity and Advancing Learning) help instructors employ an evidence-based process in their course design. Kendra Dority is leading the creation of course design workshops with Jody Greene facilitating. Working with CITL gives our instructional community the opportunity to develop innovative approaches to assessing learning and build skills in critical analysis and incisive writing for non-specialists.
Project Timeline