This is the second installment of Beyond the Forest: David Gleason's Humanities Alumni Profiles.
A cool, moist wind blows from the Pacific Ocean as I drive up California Highway 1, past the beach town of Half Moon Bay. I'm meeting with expedition photographer and University of California Santa Cruz graduate Gordon Wiltsie to talk about his remarkable career, and how his education prepared him for the adventurous life he created for himself.
There's a layer of ocean fog at 1,000 feet so the sunlight is soft, while the air is cool and damp. Despite the highway traffic, it is quiet, with muffling fog softly drifting in and out of the stands of eucalyptus and redwood. In some ways, it reminds me of photos that Wiltsie has published of the mountains of California, Nepal, and Peru, where the fog sweeps in over thick high-mountain forests.
And I wonder, "how did a mountain adventurer end up at sea level?"
I arrive at Gordon's house, and am greeted by him and Sarah Caldwell, UC Santa Cruz Humanities Division Assistant Director of Development. It was Sarah who set up our meeting, and who had engaged both of us as part of an outreach program to involve more UC Santa Cruz humanities graduates in the division's planning, activities, and future.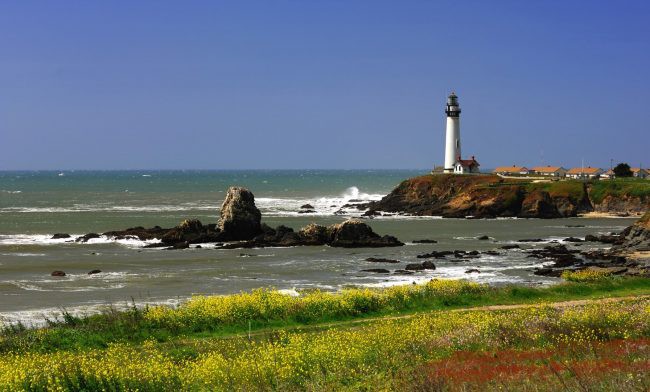 Pigeon Point Lighthouse, just south of Pescadero, CA.

Gordon is slender, with a medium build, somewhat shaggy brown hair and a calm, relaxed manner; but as soon as he begins to speak, his intensity flares, he gestures, and you can see the qualities of perseverance and attention to detail that have made him a successful explorer and artist. As we sit at the dinner table, Sarah takes photos of us talking, and I notice several striking landscapes on the walls and the shelves — samples from his 40-year career, traveling to the world's most remote, challenging and often dangerous locations, to explore, photograph and describe, in concise and moving prose, what he saw, felt, and experienced.
As we get acquainted, Gordon explains that his photography has taken a significant turn in recent years. His four decades of adventure travel to fierce and punishing locations have taken some toll on his ability, and willingness, to adapt to such harsh conditions; so not long ago, he moved with his family down to sea level, and now has set a new career focus. He is feeling good and excited about what's he's doing and what is still to come in his creative work.
We first want to understand how he became an expedition photographer; to do that, we begin with his two years at Amherst, a renowned, 200-year-old, private, (then) men-only liberal arts college in eastern Massachusetts. His father and uncles had attended Amherst, so the strong family tradition had sent him there. It was at Amherst that Gordon made a radical decision that set him on his career and life's path.
A California Adventurer Moves East Then Back West
At the end of his sophomore year, Gordon Wiltsie had a clear academic path, and a bright future lay ahead. His two years at Amherst had been successful, the college was intellectually exciting and challenging, and his talent for math and science had made him his chemistry professor's choice as a teaching assistant in his upcoming junior year.
"He was going to mentor me," says Wiltsie. "I was really good at math, but at Amherst, I also got exposed to Shakespeare, quantum mechanics, sociology… and I loved political science."
But something wasn't right: "In some ways I got caught up in all of that, but I didn't really fit in there."
So Wiltsie changed his plans. Completely. Rather than return to Amherst for a third year, he did two things that dramatically altered the course of his career, and his life.
First, he decided to take a year off, to work and then to travel. He explains, "I worked at a Union Carbide mine, and for the Forest Service, and saved up enough money to travel for six months. Just vagabonding; I bought this beat-up old VW bus. I learned how to fix everything; it was a life-changing event." He then headed to Europe, and encountered some wild and dangerous situations, especially in Turkey where had a run-in with a Brazilian drug smuggler.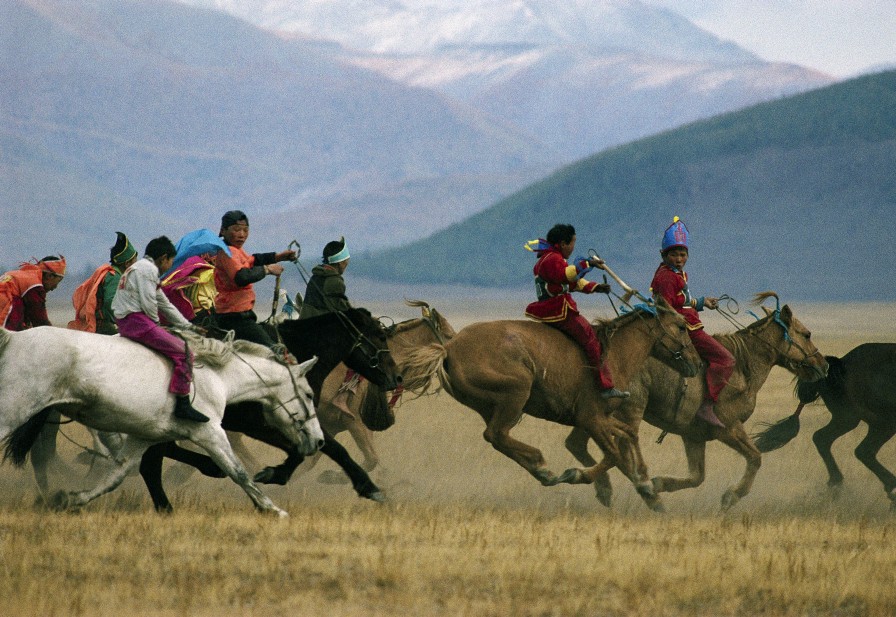 MONGOLIA, Darhad Valley, Young riders race bareback at a festival before their annual fall migration.
Photo by Gordon Wiltsie (used with permission).
Second, he applied to UC Santa Cruz. "Before I went off to Europe, I applied to UC Santa Cruz, and I was accepted while I was still on the road," Gordon says. UCSC had actually been his first choice while still in high school, but family tradition had been a strong influence on his choice of Amherst. After two years at Amherst, he realized he wanted to return home.
Continue reading this article on